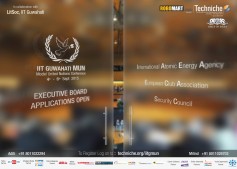 Diplomacy is an art. Research and an understanding of policies are the essential colors to paint the blank canvas of an MUN conference. This novel canvas is the simulation of the highest level of world diplomacy
– the United Nations.
A year back, MUN knocked the doors of North East's largest Techno-management festival, Techniche as IIT Guwahati hosted the fall edition of its very own conference, and created quite a stir as it did so. Delegates from all over the nation, and also from overseas, convened under the finest of chairpersons and carried out exhilarating discussions on contemporary and historical issues for the 3 days of IITGMUN.
The embassies of Sweden and Israel sent their greetings and support while the Swedish Ambassador to India, Mr Harald Sandberg and the Maharaja of Tripur...
Read More