QuEST Global – Mega Off Campus drive on March 31st, 2012
One more feather to our cap…
We call this mega, because of the total requirement, and it was 125 opening and the total participants for the drive were over 3000 candidates…
I reached the venue by 9.30am, by then a huge sea of crowd was waiting at the gate of Pritech 2 building, behind Eco Space on outer ring road, Bangalore. All candidate waiting with call letter from Freshersworld..lot standing and clarifying about the opening, few parents who have come with their kids…lot of tension and excitements.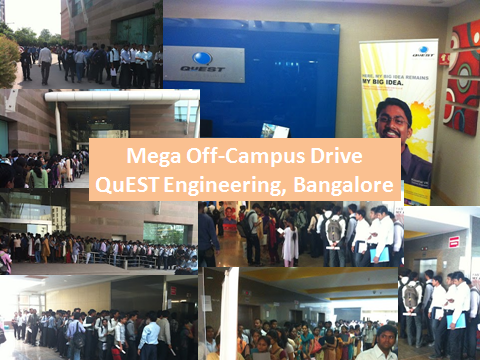 Campus Lead of QuEST Engineering had made elaborate arrangement to conduct written test for all these 3000 candidates. 4 tables were arranged with volunteers from Freshersworld managing them to do the registrations, tables were for Mechanical, Electrical, E&C and CS, we had freshers and also candidate with experience.
Registrations started at 9.30am, in a batch of 50 each the candidates were made to take written test, there were 3 test centres inside the QuEST premises, written test continued till 5.30pm in batches, parallely the team leads from QuEST Engineering sat and evaluated each answer scripts and also made result announcement for candidates who had cleared the test for technical round….I saw lot of activities happening on ground floor.
We had candidates coming from Mumbai taking morning flight, we had candidates coming from Kolkata…candidates across India…for first time I am seeing such a big crowd for off-campus drive.
I saw staff of QuEST Engineering and staff from Freshersworld.com managing the crowd, few key managers from QuEST were also present…as per Dr.Sharat – Head Learning and Development, this was the first time they are seeing such a big crowd attending a off-campus drive..everyone were excited…
I was overwhelmed when i got a testimony from Dr.Sharat, he wrote…"I wish to thank and acknowledge the excellent support rendered by the Freshersworld team to our off-campus recruitment drive.  Organizing an off-campus recruitment event for young engineers spread across the country requires a lot of planning and coordination.  Partnering with Freshersworld definitely helped our initiative. We got an excellent augmentation to our off-campus engine through the Freshersworld online portal as well as through the ground staff.  The experience and insight that Freshersworld team brought to this drive was helpful for organizing this major initiative for QuEST Global"…
Team, this is awesome…i like to thanks each and everyone from Freshersworld.com to make this a successful drive.
Stephen T Chacko – Director Corporate Relationship.
(Visited 17 times, 1 visits today)