Intergraph – Off Campus Drive (HYD / BGLR / CHN) March 16th 2012
We all were waiting to get update from Justin – Sr.Manager HR on number of candidates attendin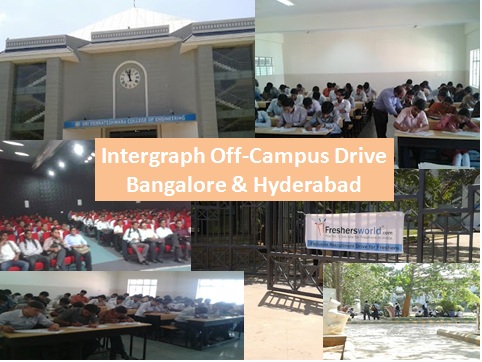 g the drive at Hyderabad Intergraph office, our estimate was about 300 candidates…at 9.30am my mobile beeped..read the message just 55 candidates have arrived…after 20 minutes again the mobile beeped..i shouted in joy 400 candidates have reached the venue…Justin message back saying "Congrats, good footfall"….
The drive was for 2011 passed candidate BE/BTech candidate from CS with 70% across including 10th, 12th and BE/BTech..a footfall of 400 was great number in Hyderabad.
In the evening i got a message again from Justin "9 offers made"..what more you can ask for…giving Job opportunity for freshers is always been a passion for me and my team..we rejoiced…again mobile beeped "Balance 6 offer should happen in Bangalore drive"..Team met chalked out strategy on how to conduct this drive in Bangalore…venue..how many call letters.. logistics.. volunteers….
On March 16th, we decided to have drive in Bangalore, Justin assigned Sriram to come to Bangalore with Tech panel to conduct the drive, drive was arranged at Sri Venkateshwara Engineering College, Yellanka, Bangalore..Abhishek, Praveen and Sangeeth were assigned to manage the drive..
700 candidates arrived for the drive…drive was managed well with team from college and our staff.
Intergraph team was overwhelmed to see such a big crowd and they decided that they will go back making 6 offers…
All 15 offers were made to Freshersworld.com candidate, they all joined on April 1st, 2012.
After the drive, Justin – Sr.Manager HR sent me an email, he wrote " I am grateful to Freshersworld.com and its Team for their timely support in our off / pooled in campus and entry level recruitment needs. We worked with them for couple of requirements and they made us to wonder their timely delivery, precise positioning of our requirements, detailing the available resources by location wise and by academic wise and physical presence to conclude the drive smoothly. I have associated and worked with many offline support systems. Freshersworld.com and their Team proved my hypothesis wrong. They did a wonderful job. They made me to realize that, flawless execution of time bound activity is their major strength. Their online and offline support too is well coordinated and highly focused"….
Justin, I promise you…give us more drives, we will do without hampering your core function, outsource to experts…we are helping companies to hire freshers for last 12 years…
Stephen T Chacko – Director Corporate Relations.
(Visited 6 times, 1 visits today)