How to make maximum out of Premium Membership?

Are you a Premium Member and still not receiving any interview call letter….
Please Ensure You Follow the DO's and minimize the Don'ts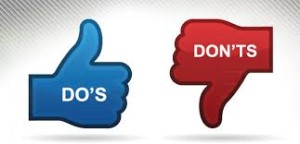 The DO's are:
-A 95% complete profile(Click Here To Know More on 100% Profile Completeness)
-Applying to matching jobs
(For example if Toshiba has a job opening for Engineers with 65 % throughout the academics, then make sure you have 65% in 10th,12th and UG or else you won't be shortlisted.)
-Always visit Freshersworld.com profile.
The Don'ts are:
-Don't blindly apply for jobs
(For example, don't apply for a Bangalore job if you have given your location as Delhi. You are losing your chance of getting shortlisted)
If a Non Premium Member– Upgrade to Premium Membership 
To see the upcoming jobs. Login Now.
If your unable to Login to your account , click on FORGOT PASSWORD, your password would be mailed to your Email-id.
If still not received your password send a mail to support@freshersworld.com asking for the password.
(Visited 50 times, 1 visits today)