Campus 2013 Kick-off event at Hotel Park Plaza, Bangalore
Campus 2013 initiative from Freshersworld.com was launched on May 18th, 2012 at Hotel Park Plaza on outer ring road, Marathahalli, Bangalore, the glittering event was attended by top HRs from Toshiba, Sasken Communication, Motorola, KPIT Cummins and few more…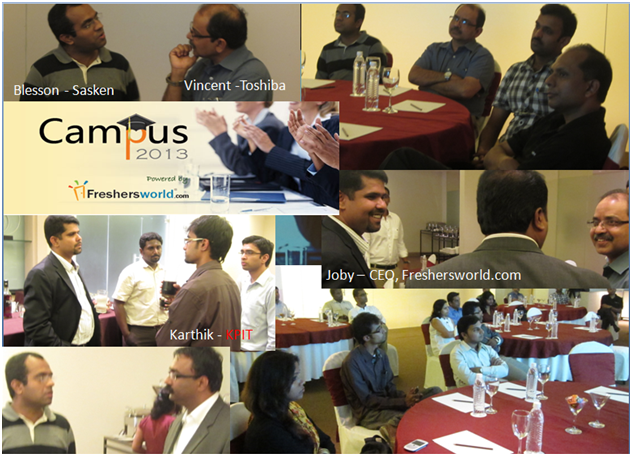 Event got kicked-off at 7pm, all guest reached the venue inspite of huge traffic jam on outer ring road, Bangalore. Presentation started with a movie showcasing all our previous successful drives done with Goodrich, Toshiba, QuEST, Intergraph, Oracle, KALS etc.
I welcomed Joby Joseph our CEO to share his journey from 2000 to make Freshersworld.com as India only jobportal for freshers, he presented the facts and figures, successes he had for last 12 years, he thanked all the guest for making Freshersworld.com a leading freshers portal in India.
I presented the 2013 plan, presented the Nodal centres in Tier 2 & 3 cities, process which we will follow, list of college where we have good relationship, video on Goodrich drive and QuEST drive. Its was good 20 minute presentation, after the presentation i welcomed questions..
Karthik – Campus lead from KPIT wanted to know if we can take them to Top MBA colleges, Joby joined me to answer various questions raise by the guests.
The event was concluded with cocktail and dinner, all guests were happy and they congratulated us and many have promised that they will go with us to various campus to hire freshers.
— Stephen T Chacko, Director Corporate Relations
(Visited 7 times, 1 visits today)