Alcatel-Lucent Campus Drive @ BGLR / GGN – July 2012
Update.. 29. July 2012
Hi Guys.. We had our next successful drive at Delhi (For Gurgaon & Noida office of Alcatel-Lucent) on 28th of July.
We had around 200+ candidates attending the drive and 49 of them cleared the written test. This time it was only for 2012 passout freshers and we had a better turnout compared to the last time.
The photos of the drive are still awaited and the names of the final offered candidates will be published soon.. ( some of the final interviews are happening today as well ).
I am back to office for inviting candidates for our next Bangalore Drive. Guys this will happen on next Saturday.. Go .. Quickly Check this job post, Apply and get your 'Confirmed Call Letter'..
— Saleema.
————- Initial blog Posted on 08. July 2012
Yes.. We did it.. !!!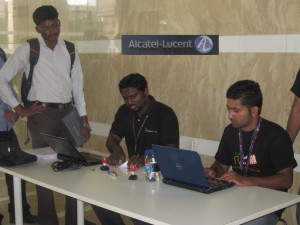 When initially I was asked to take up this drive, I did wonder 'How am I going to Do it'?
The mandate was to line up around 300 Electronics (ECE) and Computer Science graduates (70% above) from Top 40 Engg. colleges in India including IITs, NITs, BITS, IIIT etc..
We received around 20,000 applications and there were around 2000 eligible candidates from across India. The last 4 days were completely spend on informing the candidates thru our SMS & mail platform to attend the event on Saturday (7th). Our recruitment tool was so helpful in alerting all the candidates and taking their confirmation to attend the drive thru online.We had received around 300+ confirmations till Saturday morning and I was waiting for the best to heppen.
Ultimately by 9.30 in the morning, more than 300+ Premium candidates turned up at the venue including around 75 candidates with 1Yr exp who passed out in 2011.
Finally the recruitment drive went on well and 59 candidates were shortlisted after the written test.  The interviews were done on the same day and finally 18 candidates were offered. (Check out the Results – Freshers / Experience)
Congrats to all who made it to Alcatel-Lucent.
Our Next Alcatel Drive is happening on 28th July at Delhi.. Interested candidates may register at http://jobs.freshersworld.com/company/alcatel-lucent
Saleema Firdouse – Delivery Lead
Dream Jobs Division ( only for OpenDream companies)
Freshersworld.com, Bangalore
(Visited 8 times, 1 visits today)