10 Things that makes us different from other Free Job Posting sites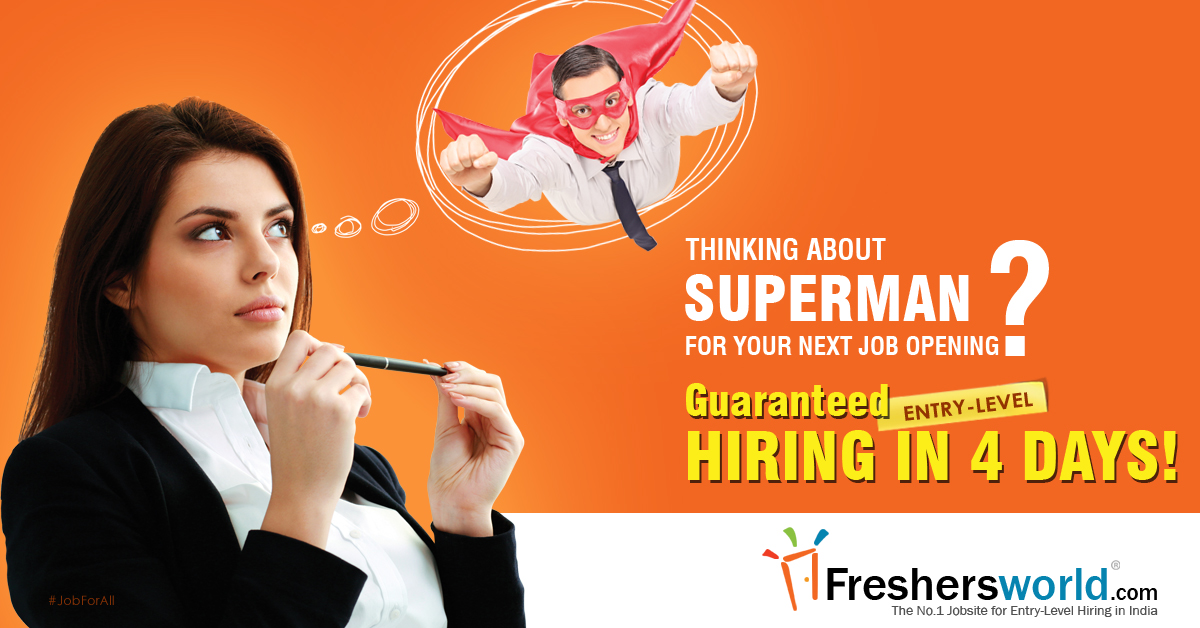 Freshersworld.com is the No.1 jobsite for fresher Hiring in India with 50 Lakh+ Fresher resumes and 50K+ employers hiring through us. The JobForAll hiring platform is much different from any free job posting website you would have seen before. From intelligent filtering to guaranteed more responses for each job posting we have combined lot of features to make this platform work. Here are top 10 reasons why our Free Job Posting hiring platform will provide you better responses than other job portals-
1) Unlimited Free Job Posting
We have launched unlimited free job posting on our portal and now you don't have to pay anything for posting unlimited jobs! This gives you limitless opportunities. There are things to note here though, unlimited job posting is something we have added to provide more opportunities for freshers to apply for good jobs on our portal. We don't allow spamming and duplication. Also, ensuring that your job description looks attractive and makes a candidate click on Apply button is something that is essential to get more responses.
2) Guaranteed Hiring in 4 Days!
We are the only job portal in India to guarantee 4 Days Hiring! We ensure this by following a set number of steps to make your job 10X time more visible to eligible candidates. You can know more about this HERE
3) Value added package worth Rs.6000+ for free!
Your job will automatically be posted to Linkedin, Glassdoor, Indeed and other major job portals. Each of these charges upwards of Rs.2000 for posting a job. We do it for you at no extra cost!
4) Automated Job Push
Your job will be pushed to 2000+ eligible candidates as soon you post it! That means no more waiting for getting job responses. With a fresher database of more than 50 Lakh+ we can guarantee profiles matching your requirement within seconds of you posting the job.
5) Intelligent filter
Our patented Hot Profile Intelligent filter sorts profiles who have applied for your job opening and provides you the cream of the applications weeding out uninterested profiles who have no interest in coming for your interview.
6) 15 Hot Profiles
This the final lot of applications from which you can close your job opening. Remember those days when you had to call 100+ candidates to get even 1 to attend the interview? With a multi-touch point approach through call, SMS and Email we ensure that you have enough turn up on the interview day.
7) Smart Questionnaire
Now you have the freedom to make informed decisions for your job opening by removing the need for a 1st round of interview. With the Smart Questionnaire feature we make it possible for you to ask the standard 1st interview questions without even meeting the candidate. You can analyse the responses and call the candidates who have answered according to your requirement.
8) Find Candidates Near You
For the first time in India, we bring hyper-local Free Job Posting for you. There are varied reasons why you would love to have employees who stay near your office location. We ensure that you get candidates around your area who match your requirement! Now, how is that for ease of job posting?
9) App based Responses
Freshersworld Official App is the perfect solution for your hiring worries. Designed for candidates, the app makes it possible for your job to reach candidates who prefer app/mobile based job search.
10) 50 Lakh+ Resumes
Freshersworld.com is the No.1 Jobsite for Fresher Hiring in India with over 50 Lakh+ candidates registered on our website. With such strong resume database, we are able to provide you a guarantee of hiring in 4 days in just  Rs.1500 only!
The JobForAll hiring platform is all set to make a huge difference in the hiring industry. Within 3 months of β-launch, we have already received 20K free job posting and serviced 90% of all clients successfully by closing their requirement. Try the platform for free HERE
(Visited 1 times, 1 visits today)