Top 5 Reasons to Build a Rewarding Career in Digital Marketing in 2015
The word 'marketing' entails in itself the essence of spreading a word about a particular product or a service such that the targeted set of audience gets familiar with it. In the present day world, with the evolving concepts, it is very evident that people today are moving ahead with the pace.  Also, it has been witnessed that people today are all engrossed with the digital equipments such that 24*7 they are busy fiddling with their smartphones, tabs etc.  Moving ahead, these gadgets and equipments are backed by different concepts which are clubbed together to be known as digital marketing concepts.
Digital marketing is one such area that has evolved the most over the years. More so, if we go by the numbers, the number of users and amount of media spend on Digital is growing over 30% annually. With 302mn Internet users prevailing in India, the country has beaten the US to become the 2nd largest country of Internet users in the year gone by.  Also, there is a huge demand for skilled Digital Marketing professionals to cater to this demand and that is the reason a Digital Marketing professional earns between Rs. 15,000-Rs. 2,50,000.
Agreeing with the aforesaid fact, here is what one of the renowned Digital Marketer thinks about Digital Marketing and the ideal reasons why one should build a rewarding career in Digital Marketing.
Pradeep Chopra, CEO and Co-founder, Digital Vidya hails from a strong IT background. Having years of hands-on experience, here is what Pradeep had to share about his journey so far. He still remembers the excitement about IT/Software in late 90's and early 2000. Indeed, it was one of the best times for people to enter into the IT industry. Even those who joined GNIIT programme at that point of time could accelerate their career and moved to respectable position within few years.
Interestingly, that is exactly the phase Digital Marketing industry is undergoing today. The wave associated with Digital Marketing industry is so strong today that it is undoubtedly the best time to be part of this fast growing industry. Pradeep has been a part of this industry since last 14 years and he believes there are some of the top reasons to build a rewarding career in Digital Marketing industry in the year 2015. These are are enlisted below:
1.    Over 2,000 Jobs for Digital Marketing at India's No.1 Job Portal
While a large number of brands and agencies do not advertize for jobs related to Digital Marketing, there are over 2,000 jobs for Digital Marketing on India's No. 1 job portal. Interestingly, 'Social Media Marketing' alone has over 1,700 jobs associated with it. When compared with the other popular industries, it came across that there were 642 jobs for 'big data'.
2.    A Digital Marketing professional earns between Rs 15,000-Rs. 2,50,000
With the increasing gap between demand and supply of Digital Marketing professionals, a Digital Marketer commands a much higher average salary compared to other industries. A graduate with no work experience can expect a monthly salary of Rs. 15,000 and a Head of Digital Marketing in a large brand or agency can earn Rs. 2.5 lacs a month.
3.    India will cross 300 M Internet Users Mark in Dec 2014
According to a recent report jointly published by IAMAI and IMRB, it was mentioned that India will have over 300 Million Internet users by end of 2014 and it has approximately 302Mn users. India took over 10 years to move from 10M to 100M Internet users. It took 3 years to grow from 100M to 200M and just 1 year to grow from 200M to 300M. Facebook alone has over 110 Million users in India.
If this growth is maintained, India will cross 500M users by 2016. At 302 Million users, India will cross the US to become 2nd largest country after China in terms of number of Internet users.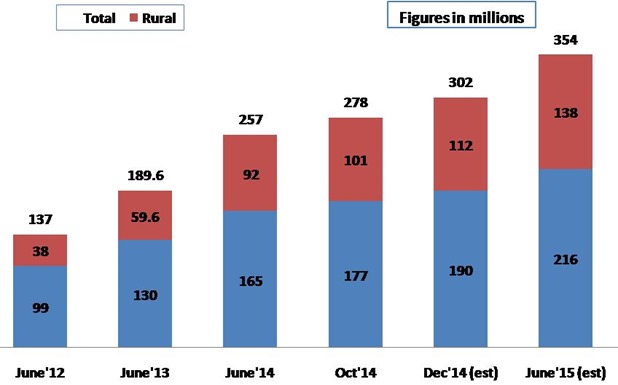 4.    Online Ad Spend to across Rs 3,500 Crore by FY 2015
According to a recent report Digital Advertising in India, jointly published by IAMAI and IMRB, the value of Online Advertising market in India is expected to increase to Rs. 3,575 crore by March 2015 from Rs. 2,750 crore a year earlier; around 30% YoY growth.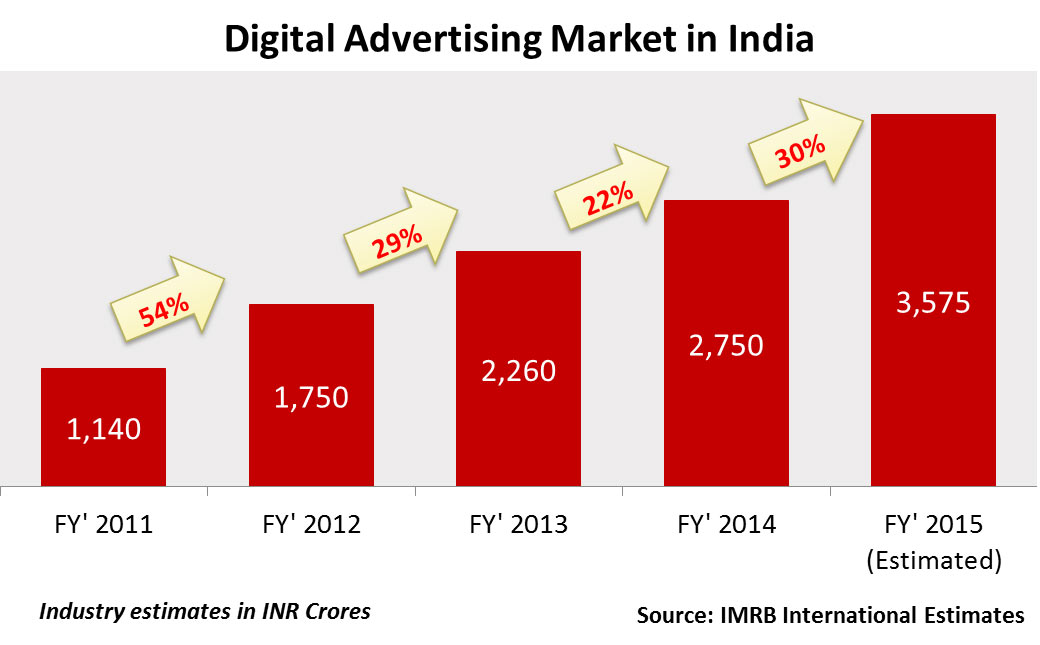 5.    Indian E-commerce Industry to cross $15B Mark in 2015
According to a recent report by Motilal Oswal Securities, Indian E-commerce Industry is currently at $11B and is expected to grow to $15B next year.
Interestingly, Online Travel currently constitutes over 70% of the market but e-tailing is expected to drive the future growth.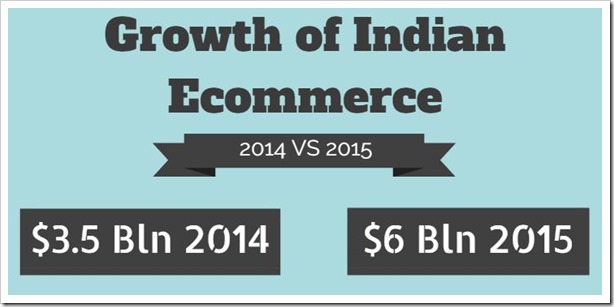 While above mentioned statistics and trends speak about the opportunity of building a rewarding career in Digital Marketing, what's more fascinating is the excitement related to job profiles in Digital Marketing. Here's a cartoon that Pradeep created to capture the same: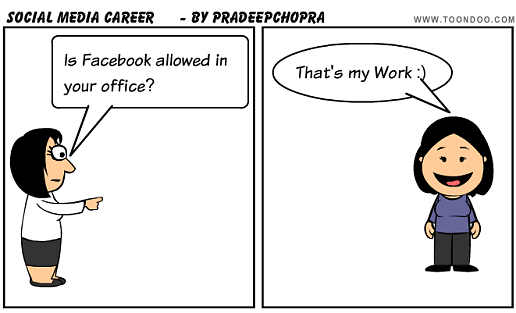 Aren't these ample good enough and lucrative reasons to opt for a Digital Marketing course? If you feel so, then this is surely the right platform and undoubtedly a lucrative option to gain in-depth knowledge of digital marketing and the other avenues revolving around it as it will be a win-win situation for both the digital marketing provider and digital marketing seeker.
If you wish to learn about digital marketing and other important aspects that substantiate it for career growth, opt for a comprehensive course in Digital Marketing now!
(Visited 15 times, 1 visits today)