The Story of 1854 Concurrent Test-takers for Online Assessment & 17 Offers- Adobe
Client- Adobe
Job Opening- Associate Technical Consultant
Salary- 9.5 Lakhs PA
Location- Bangalore
About Client-
Adobe Systems Incorporated  is an American multinational computer software company. The company is headquartered in San Jose, California, United States. Adobe has historically focused upon the creation of multimedia and creativity software products, with a more-recent foray towards rich Internet application software development. It is best known for Photoshop, an image editing software, Adobe Reader, the Portable Document Format (PDF) and Adobe Creative Suite, as well as its successor Adobe Creative Cloud.
Requirement-
Adobe had requirements for Associate Technical Consultant for Bangalore location. Adobe engaged freshersworld.com to conduct Exclusive Recruitment Drive for candidates from BE/ BTech (CS/IT/ IS/ ECE/ EEE) from 2016 Pass out batch with 70% throughout academics.
Job Role-
Responsibilities:
Design and implement components for Adobe CQ
Build solutions on top of the CQ WCM, DAM and SoCo modules
Transfers and insures business requirements into technical specs and provides technical implementation solution and recommendations
Create and integrate content-driven applications on top of the CQ core platform, and integrate with other systems
Define implementation processes, and best practices.
Must Have:
Good understanding of Java, Java EE, Servlets, JSP, Tag libraries, and JSTL skills, combined with a good understanding of Enterprise Java frameworks such as Spring and Hibernate
Exposure in Java, web development experience, other Content Management system experience
Good understanding of core web technologies including XML, XHTML, Client Server-Side Scripting languages such as JavaScript, and JSP, and web services development using RESTful implementations
Application development, distributed application development and Internet/Intranet based database applications.
This Drive was for the Premium members of Freshersworld.com and was a great opportunity for them to start their career with Adobe with salary of 9.5 lakhs PA.
Support Provided by Freshersworld.com-
This was our first engagement with Adobe for their entry-level hiring requirement and it was a huge success. The client was looking for candidates with  particular set of skills. In the preliminary stage, freshersworld had an important task of sifting through 1 Crore+ database to find candidates matching the client requirements. Then, the call-letter sending phase happened and about 1854 candidates concurrently took the Online Assessment test through our platform.
The results were delivered to the client real-time and the final shortlisting after the Assessment test was 238. The selected candidates were called to attend the interview process which included Group Discussion followed by Technical round, Director Round and HR interviews. Four dedicated resources from freshersworld.com were available throughout the process. The final offer was made by the client to 17 candidates.
About Freshersworld.com
Freshersworld.com has conducted more than 3000+ exclusive drives for clients like Facebook, EMC, Adobe, Accenture, Toshiba, Huawei, Sonus Networks, Motorola, Alcatel Lucent, NetApp, Goodrich, Siemens, Amazon, Symphony Services, ABB, MuSigma, Akamai, Flipkart, Oracle, Practo, Berger Paints, HDFC Life and many more. Would you like to engage with us for your next bulk IT Hiring requirement? Send in your requirement to recruit@freshersworld.com
Pics from the recently concluded Adobe drive (Bangalore location)-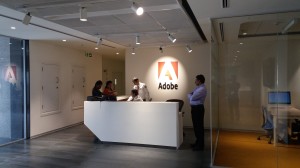 (Visited 24 times, 1 visits today)