Placement Prep Services from Freshersworld.com
We @ Freshersworld.com, being in the fresher hiring industry for the past 10 years understands the need by both the campuses and corporate for a successful recruitment. The scenario now can be best described as "the corporates are levelling up their hiring standards and the colleges are trying to find ways to achieve it ".
Aptitude Tests one of the preliminary elimination methods, which is now executed by many companies, online to filter the junk even without coming to a campus. As the pioneer in the freshers hiring industry Freshersworld holds the responsibility to ensure that both corporates and colleges are able to meet their ends.
–          Free Assessment for Final and Pre-final year students
–          Detailed Report Card to the Placement Department.
–          Colleges with best performances will be shared with our premium clients
–         Series of Preparatory and Company based tests for continuous evaluation.
–          Chance to host campus drives / corporate events
–          Regular updates on the Job opportunities and trend in Job market in India.
As a first step please share your students' academic details in excel format via e-mail or  http://bit.ly/uploadprofiles
For any further queries please feel free to contact @ 07736-335-980 or write to nikhil@freshersworld.com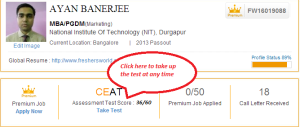 Best Regards,
Team – Freshersworld.com !
(Visited 39 times, 1 visits today)