How Does An Apprenticeship Benefit You?
So, your school or college is done and you need to take your first step in your career. Your friends and family are serious about getting you to do college or finding another job immediately.
In this case, an apprenticeship could be the right choice for you.
What is an Apprenticeship?
Apprenticeship training, funded by the government of India, is the best platform for any candidate above 14 years of age to make a formal professional career as it helps you acquire capabilities, skills, and experience to become employable in the working world. By becoming an apprentice, you are subjected to real-time hands-on training from organizations you want to make a career in. Apprenticeships can be your alternative to formal education and as a bonus, you get subjected to employability certificates and monthly stipends, thereby helping you land jobs in huge organizations.
These are the 7 benefits an apprenticeship can have for you –
1. Learn While Working
You might think that you want to do a job but you might lack the skills and experience to do a certain job. In this case, an apprenticeship presents itself as the most suitable option to help you develop a set of skills. Being a work-based learning type of environment, an apprenticeship allows you to learn a skill directly in the workplace as well as providing you with a classroom environment.
2. Get Paid While Learning
Yes, we have got good news for you. An apprenticeship allows you to earn a salary whilst you're learning a new skill. Crazy, right? As an apprentice, you're entitled to National Minimum Wage. Salary can vary from employer to employer. The government of India pays for your salary, so you don't need to worry about anything. Because of your status as a worker as well as a student, you'll also get paid holidays and company benefits.
3. Work Experience Guaranteed
Your training takes place in the classroom, but you will be spending most of your time in the workplace. In this way, unlike colleges, you will learn the practical side of work than the theory behind it, hence giving you hands-on experience and by doing this, your skill increases by a drastic amount.
4. Choose Your Industry
You have the freedom to choose the industry you want. You can start on any course that you feel is best, hence giving you the flexibility and skills. You will also have seniors in your apprenticeship course, which means that you will get a whole lot of seniors that you can learn from.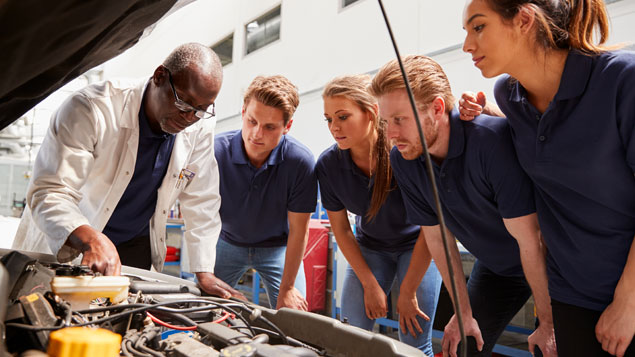 5. Learn Key Skills
If you can't find your certificates, don't panic! Your training provider will give you training, which means you will get your certificate and what more, you are going to hone your skills so it's a win-win situation for you, easily.
6. Boost Your CV
Your course will allow you to develop skills which will boost your CV. You won't need to worry about not having gained experience in the field. By the end of your apprenticeship, your CV will display your knowledge of the industry you have worked in. It also helps you at your maturity in undergoing an experience that requires real hard work.
7. No Student Loan
Despite being classified as a learning experience, an apprenticeship doesn't require you to get a student loan. Apprenticeship costs are covered by your employer and the Government. This is a great benefit of doing an apprenticeship, as it allows you to focus on your qualification without worrying about paying student debt.
To register, head on to www.apprentices.in now to register!
(Visited 31 times, 1 visits today)