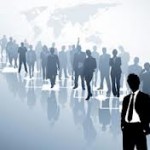 In Campus Hiring companies have to make offers and wait for at least six months till the student finishes his studies. Off campus recruitments include candidates who had opted out of placements or who want to try their luck after they pass out.
In India a huge chunk of graduates pass out after their engineering course and not all are fortunate enough to have companies going to their college. This half or around three fourth of the candidate has to go for off campus placements.
Nasscom reported that the Indian companies who are cautious and are unable to take long term decisions go for off campus recruitment. They hire when they have any new upcoming project. The mid-tier companies like Mind tree has decided to increase its off campus hiring quota from 10% to 30% this year. This will give hopes to the new generation engineering college students.
But what are the hiring plans of the Indian IT majors: TCS, Wipro and Infosys? IT exporter Infosys has delayed the joining dates of over 25,000 freshers it had hired from campuses in 2012 placements. Its mid-tier rival iGATE too, has delayed joining dates of close to 1000 fresh engineers by a month or two. TCS plans to maintain its campus hiring.
For 2013, Infosys has plans to hire 35000 people, out of which the 13000 would be for its BPO domain. And its major rival TCS has plans to hire 50,000 people in FY 2013. The joining dates of the campus hiring would be delayed by the companies. But the candidates hired through off campuses are slightly not to have delayed onboarding because the companies hire through off campus to meet their immediate requirement.
For any Recruitment Related Assistance log on to www.freshersworld.com/employers