Food Corporation of India (FCI) 2015 Recruitment Notifications for Freshers – Last Date to Apply for FCI jobs is 2-07-2015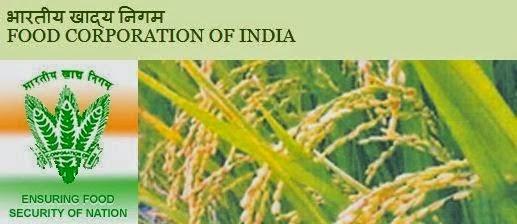 Food Corporation (FCI) is a biggest organization in India and one of the largest food supply chain management in South Asia. It was set up under the act of 1964 Food Corporation's. The main focus of FCI is to make the available use of food grains all over India for public distribution system and to preserve stocks of food grain to protect farmers and National Food Security of our country. Headquarters of Food Corporation of India is located in Delhi.
FCI released a notification to freshers for recruitment of Management trainee in Post Code A, B, C, E, F, G and H for Job categories like General ,Depot, Movement, Accounts, Technical, Civil Engineering, Mechanical Engineering and Electrical Engineering. Job seeker who have completed their graduation or degree from any of the recognized university or equivalent can apply online from our website Freshersworld. Food Corporation of India operates in 5 zones (East Zone, South Zone, West Zone, and North-East Zone) throughout the country and the number of Post/Post-Code/Qualifications of FCI is classified according to these 5 zones.
Important Dates of Food Corporation of India Recruitment
Application Start Date: 02/06/2015
Application End Date: 02/07/2015
End Date for Making the Application Payment of Fee through SBI Internet Banking/ Other Internet Banking/ Debit/ Credit Cards: 09/07/2015.
End Date for creating the Bank Challan: 02/07/015.
End Date for Making the Application Payment of Fee by Challan at branches of State bank of India: 09/07/2015.
Accessible of Admit Cards on website: 15 days prior to Announced Date of Examination.
Detail Vacancy of Food Corporation of India (FCI) – Total 344 Vacancies
North Zone: 63 Posts – Management Trainee
General: 08 Posts
Depot: 13 Posts
Movement: 04 Posts
Accounts: 25 Posts
Technical: 04 Posts
Civil Engineering: 09 Posts
South Zone: 112 Posts – Management Trainee
General: 10 Posts
Depot: 20 Posts
Movement: 03 Posts
Accounts: 23 Posts
Technical: 49 Posts
Civil Engineering: 04 Posts
Mechanical Engineering: 01 Post
Electrical Engineering: 02 Posts
East Zone: 66 Posts – Management Trainee
General: 06 Posts
Depot: 10 Posts
Movement: 02 Posts
Accounts: 10 Posts
Technical: 32 Posts
Civil Engineering: 04 Posts
Mechanical Engineering: 01 Post
Electrical Engineering: 01 Post
West Zone: 57 Posts – Management Trainee
General: 06 Posts
Depot: 03 Posts
Accounts: 03 Posts
Technical: 38 Posts
Civil Engineering: 05 Posts
Mechanical Engineering: 01 Post
Electrical Engineering: 02 Posts
North East Zone: 46 Posts – Management Trainee
General: 19 Posts
Depot: 05 Posts
Accounts: 05 Posts
Civil Engineering: 12 Posts
Mechanical Engineering: 02 Posts
Electrical Engineering: 03 Posts
Freshers can get daily updates, job alerts and notifications on latest upcoming job openings by registering now with www.freshersworld.com
(Visited 2 times, 1 visits today)